Advertise Row!
Please use one of the follow advertisements to advertise for RoW. When advertising, please be respectful of any posted rules, as you are representing RoW when you post.
Signature Image:
http://relic-lore.net/img/rl.png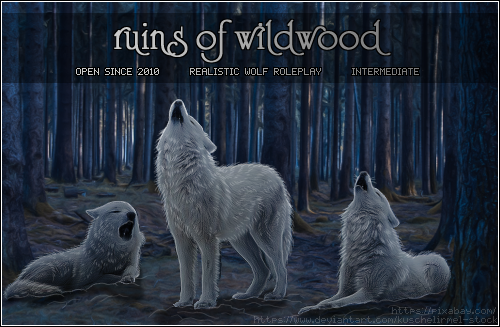 In the remote wilderness that is the realm of Relic Lore, the Ruins of Wildwood is currently considered no man's land. For over 10 years wolves thrived before suddenly vanishing in the beginning of 2019. Humans have recently reintroduced wolves to the land and now must learn how to survive amongst strangers in a new place.
After soft-closing the game in 2019 we are back! Game development is 100% member driven. We offer a wealth of features for members including:
Automated thread logs to keep track of your characters!
Bi-weekly random event prompts for your characters
Fun point system to follow your character's growth
A stat based fighting system that scale's with your character
Linking character profiles
Fully customizable profiles
Sandbox environment: 30 territories and over 100 member-created sub-territories featured on our interactive map!
New coastal region coming soon!

Currently there are no onsite packs but a couple in the works.  Come join us at
www.relic-lore.net
and become a part of our community!
Code:

[align=justify]
[align=center][img]https://res.cloudinary.com/ruins-of-wildwood/image/upload/v1612487124/RLAdvert_wsusbk.png[/img][/align]
In the remote wilderness that is the realm of Relic Lore, the Ruins of Wildwood is currently considered no man's land. For over 10 years wolves thrived before suddenly vanishing in the beginning of 2019. Humans have recently reintroduced wolves to the land and now must learn how to survive amongst strangers in a new place.

After soft-closing the game in 2019 we are back! Game development is 100% member driven. We offer a wealth of features for members including:

[list]
[*] Automated thread logs to keep track of your characters!
[*]Bi-weekly random event prompts for your characters
[*]Fun point system to follow your character's growth
[*]A stat based fighting system that scale's with your character
[*]Linking character profiles
[*]Fully customizable profiles
[*]Sandbox environment: 30 territories and over 100 member-created sub-territories featured on our interactive map!
[*]New coastal region coming soon!
[/list]

Come join us at [b][url=http://relic-lore.net]www.relic-lore.net[/url][/b] and become a part of our community!
[/align]